HOT STONE THERAPY


WHAT IS HOT STONE THERAPY?
A stone massage therapy with Ling-Chi Holistic Health can actually involve the use of Hot and Cold stones. Using natural Volcanic Basalt Stones (Hot) and Marble (Cold) stones, stone massage therapy is a truly relaxing and therapeutic treatment, the heat from the stones penetrates deep into the muscle tissue promoting cleansing and healing. In addition the application of the Cold stones feels wonderfully refreshing after the warmth of the main therapy and greatly assists the lymphatic system in draining away toxins.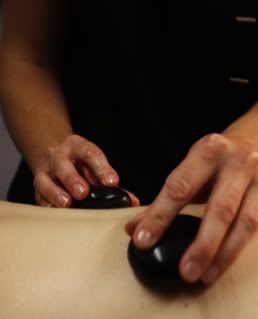 WHAT BENEFITS CAN BE GAINED FROM A STONE THERAPY?
Muscular aches, pains, sprains, and strains
Improving suppleness and range of movement of ligaments and tendons
Poor circulation
Rheumatic and arthritic conditions
Fibromyalgia
Detoxification
MS
Back pain
Stress, anxiety and tension
Insomnia
Depression
Ling-Chi Holistic Health offers three choices of Stone Massage Therapies, giving a choice of treatments suitable for most conditions:
HOLISTIC HOT STONE THERAPY
Choice of either 30 minutes or 60 minutes using the Hot stones in a slow and rythmic routine over the body, with some placed around the client, this therapy promotes a deep sense of relaxation and stress release. One client referred to the experience of the heat as "feeling like the sun shining on my body" and then ending with the application of cold stones (often felt like the sensation of running water through the muscle tissues when moved over the body).
This treatment is well suited for those suffering from stress, anxiety, fatigue, rheumatic, arthritic, fibromyalgia, MS or those needing detoxification.
HOT STONE HEAVEN!
Lasting for 75 minutes - Ling-Chi Holistic Health uses Hot stones and the powerful healing properties of essential oils in a steamer and all over the body including a facial and scalp treatment, positively out of this world!!
----

MIXED TREATMENTS AVAILABLE:
Why not choose a mix of treatments and give yourself or a loved one that extra special and much needed time out to truly relax, re-fresh and re-balance. Choose the treatments you would like and a tailored price and timing will be given before booking confirmation.


----